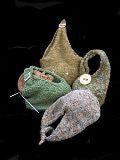 ---
Choose a ribbon/tape yarn to knit this bag for fun or evening wear. Just large enough to hold lipstick, credit card, and keys. This circular knit bag is easy to make - knit one for every outfit!
The Betty Bag is a mini version, not felted, of the Bucket Bag. The top of the bag is tied like a banana. It can also be fastened with a buckle. Or graft the handle stitches together to make a smooth handle.
Yarn: 200 - 250 yards of a ribbon or tape yarn that normally knits to a gauge of 3 - 3.5 stitches/inch
Needles: Use a needle size that is one or two sizes smaller than the size recommended on the yarn ball band. The purse fabric should be fairly firm to keep your treasures safely in the bag. Choose a 16" circular needle and a set of double point needles.
Size: Depends on yarn choice. The bags in the picture range from 7" to 9" wide.
---
Share this Product
---
More from this collection