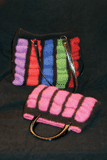 ---
Two sizes are given for this retro-style bag reminiscent of grandmother's work bag. Use up leftovers of your worsted weight wool yarn or choose a two-color version to knit and felt this deceptively simple purse. A purchased handle and lining are added after felting.
Yarn: Worsted weight wool yarn. Small bag: 660 yards total. Use 440 yards for main color and 220 yards of contrast color.
Large bag uses 880 yards in total. For a 2-color bag, use 440 yards skeins for the main color and 440 yards for the contrast color. To knit in more than 2 colors, each contrast color will use less than 100 yards.
Needles: 24" long circular needle in size 10.5US.
---
Share this Product
---
More from this collection